Modern landscaping
To start a project, contact us
Elegance is always stylish and there's a definite need to go back to basics, to protect our environment and to make smart, effective choices when it comes to your landscaping.

Modern landscaping is both stunning AND sustainable.
Whether indoors or out, architectural trends are showcasing raw materials. Natural stone, wood, concrete and steel are popular selections, and by cleverly combining these elements, you can create a refined, eco-responsible where simplicity is spectacular.
Modern landscaping: exclusive, elegant and eco-friendly

A contemporary look is in the details. For example, smaller, patterned tiles are replaced by large smooth surfaces, outdoor fireplaces add a chic, modern touch, and strategic lighting transforms your classic daytime environment into a magical evening retreat.
Plants and flower beds are uncluttered and simple
Modern landscaping favours vegetation that requires little maintenance. We use strong, resistant and simple plants that embellish, without stealing the show. The use of intelligent lighting makes it possible to emphasize deliberate yet subtle landscaping choices and we often choose structured plants that are easy to align, creating a clean, classy effect.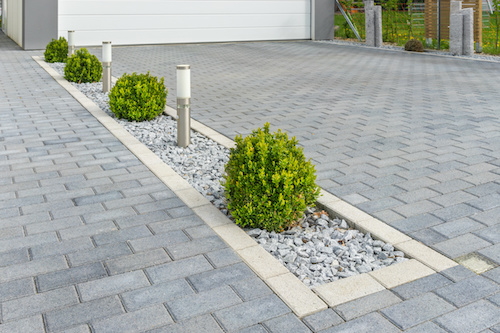 Decluttering plants and flower beds minimalist
The modern landscaping favors vegetation that requires little maintenance. It is best to select plants that are strong, resistant and simple, which beautify the space without stealing the show. The use of smart lighting emphasizes thoughtful and subtle landscaping. The plans mainly considered for the development of a modern garden offer a linear structure classy.
Furniture that blends seamlessly with your environment

Following the strong trend for all things natural, furniture ie kept simple, stylish and low-key. To decorate, we favour neutral tones, classic lines and soft, but resistant textiles. Plastic or PVC are nowhere to be seen and we, in turn, create serene, organic, harmonious style. Hammocks, low furniture and zen accessories are combined for carefree, Bali-esque touches that add thoughtful nonchalance to more structured styling.
The wonders of water

Whether you opt for an inground pool, a swimming spa, a pond or even waterfalls and fountains, water always adds a touch of elegance to your exterior. A creative layout can create enough space for relaxation, pleasure and contemplation.

Prepare your project: the easy way
Write us