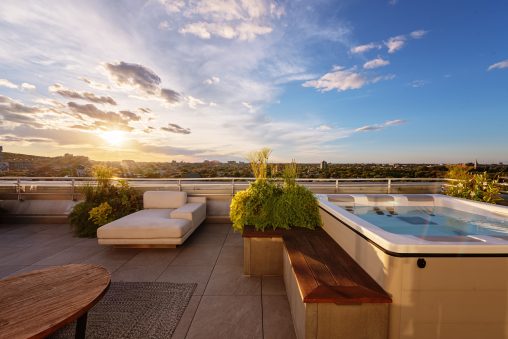 Relax, our team makes your dreams come true
Our team realizes extraordinary projects that meet your expectations.
Let's discuss hot tubs. Whether you already have one, you're thinking of acquiring your first, or you'd like to upgrade, having a spa in your backyard is delightful. Add proper location, a few accessories and a creative set-up to the mix and you can go from nice to stunning. Which would you prefer?
With clever patio design, you can create space for rest, connection and fun for all.  But it is still necessary to facilitate travel, imagine and design the desired comfort and ease, then mold your exterior to your lifestyle. A landscape architect does all of the above.
Proximity to your home
Here, we consider several scenarios:
Would you like to use your spa all year-round?
The motor will run frequently. Will the sound annoy or soothe you?
Must you supervise someone who will be using it and will mobility be an issue?
Will your spa block the view to something else?
Would you enjoy audio, lighting, towel or bathrobe hooks or any other accessory that would enhance your set-up?
What would be YOUR ideal conditions?
All in all, are you comfortable with a spa that's further away from your home or would you like immediate access?
Both answers work. It's just a question of imagining how you'll use your hot tub.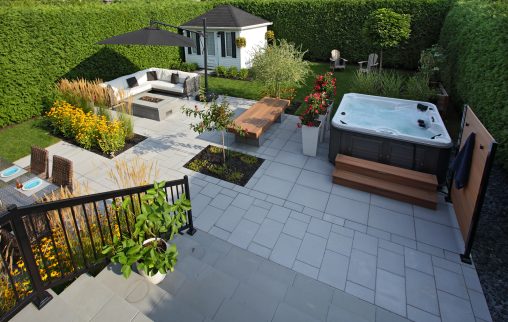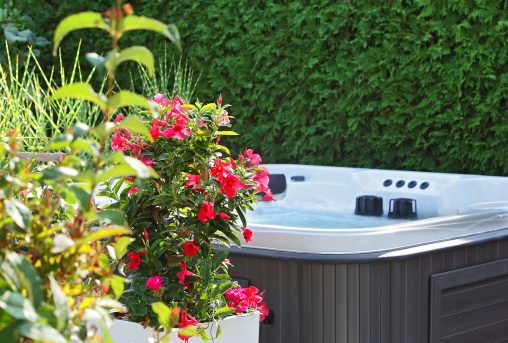 Privacy
You don't want to realize you lack privacy once your spa is installed. Unfortunately, this happens often but fortunately, it's easy enough to fix. Privacy panels or vegetation can help create the discreet, quiet space you crave. We help you figure out what works best and why.
Privacy panels
There are several solutions and ways that can be considered to provide yourself with more privacy. In order to create a little corner of paradise out of sight, privacy panels are the best option. These large structures installed in front of your spa can be made of wood, steel or composite. Either way, they'll hide you from prying eyes.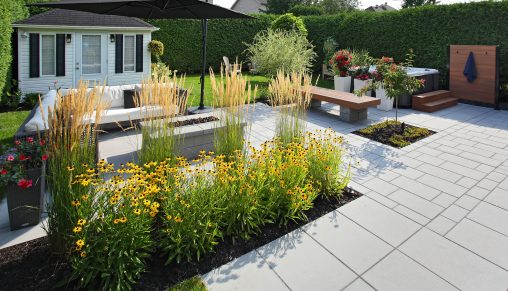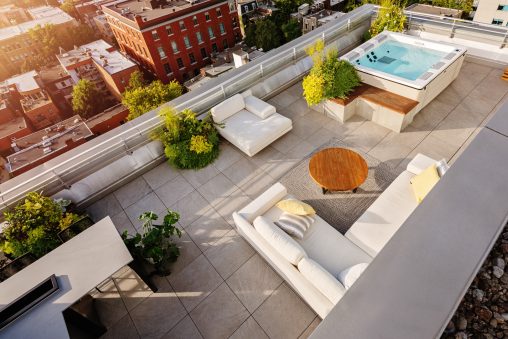 Natural integration
So that your spa blends in harmoniously with your exterior, you can also opt for a stone wall or use adequate vegetation. These provide a natural option for your course and can perfectly create the low-key and peaceful space you desire.
Weather and climate change
Living in Quebec means drastic weather changes and with a smart planning you can enjoy your spa year-round. Proper landscaping and design will protect you from strong winds, scorching sunlight and intense rain.
And consider winter. While some love plowing a path and jumping in their hot tub in subzero temperatures, others decide to close it all up for the winter. Your preference will also be taken into account when designing your space.
Accessibility
Let's consider accessibility on two levels:
Being able to enjoy the spa with limited mobility
Having fast, easy access to the motor if anything breaks
Though completely different aspects, both definitions should be considered when planning all landscaping design around your spa.
Style
Depending on your lifestyle, you may opt for a classique spa, a high-end inflatable model or a swimming spa that resembles a small, inground pool.
Whatever your decision, we know how to place your needs, and your spa, in the perfect spot for your overall backyard landscaping plans.
We've designed and built outdoor spaces for over 30 years. Small, grand, intimate or stately, our team comes up with smart solutions that surprise and delight all of our customers.