Need your patio to blend in with the decor?
Naturally.
Your lifestyle dictates what you'll want and need to create a space that works for you. Your backyard is no exception. We combine sturdy with stunning, to design patios and decks that respect your environment, while making it comfortable and pleasant to enjoy the outdoors.
When browsing our projects, you'll see meticulous, creative and diversified work. Each job matters, and the outcome is only as good as how the client feels, when we pull out of the driveway. Your specific needs are your own, but here's an overview of things that matters to us, when working for you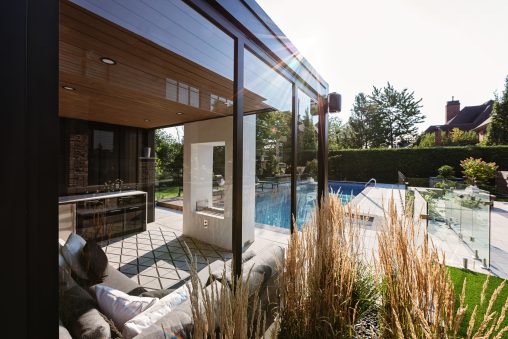 Your freedom
Nobody wants to spend the entire weekend upkeeping their backyard. Nor do they want to be redesigning their patio and deck every other year.
Durability fosters peace of mind. And easy maintenance means you can spend time doing what you enjoy, not what's required.
Spend time nurturing your garden and flower beds, entertaining, or perhaps just sitting back to relish the beauty and peace afforded by your new space.
We create long-term value. For you, as owners, but also for future buyers, should you ever pick up and move to a new address.
Your comfort
Patio season is good for your health and wellness. Adding certain elements that define your lifestyle can make it even more enticing. Include shaded areas, audio, and even integrate the BBQ, wine cellar or fridge. Anything that enhances your outdoor experience will make a difference.
Nous pouvons aménager votre cour et créer des coins ombragés, intégrer le BBQ, le cellier, le frigo, un espace de rangement, ajouter des plantes et des fleurs ou tout autre outil dont vous ferez usage pendant le beau temps sur votre terrasse.
We've been creating outdoor spaces for over 30 years. Over this time, we've overseen loads of projects, surpassed all kinds of challenges, and built innumerable dreams for families everywhere. Our expertise lies on solid, hands-on experience and perfect patio-personality matchmaking skills.
Quebec's weather makes you want to spend time outdoors during the warmer months. You've most likely created a warm, cozy interior that you love. Now, let's create something equally great, outside. You've just found the right team to make it happen.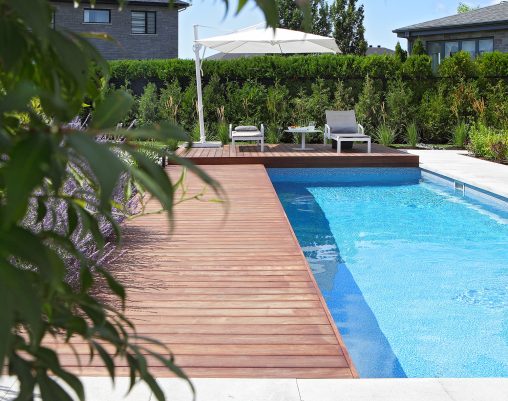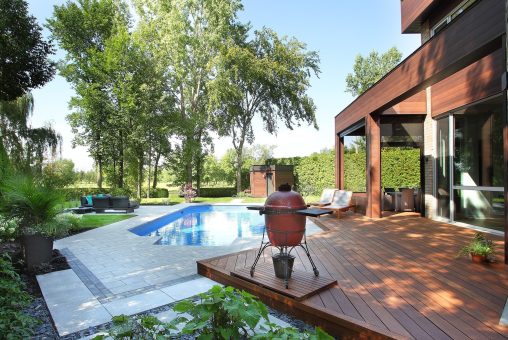 Your safety
Whether you're hosting your favourite elders, energetic grandchildren, or simply need a safe environment for yourselves, it all starts with smart, careful planning and a design that covers everyone's needs.
Integrating stairs, ramps, lighting, a pool and even garden space, doesn't mean foregoing elegance or design. Quite the opposite. You can please everyone, ensure your surroundings are secure, and still have the picture-perfect effect you imagined.