Landscaping maintenance packages
Expertise makes the difference
Our team leaders are rigorously trained to ensure the quality of our work.
It is their expertise that the company relies on to ensure quality service.
It's the difference between good and wow, and we're proud when we get satisfied feedback from our customers.
Discover our maintenance packages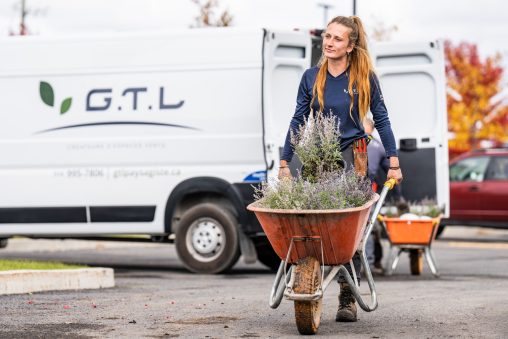 Smiling employees, happy customers
We put a lot of emphasis on the well-being of our employees and the company culture. We believe that in this day and age, the quality of service also depends on the relationship between the customer and the person responsible for the service.
It is important for us to provide impeccable service and a pleasant atmosphere during the work.
Reliability and rigor
Landscape maintenance is dependent on the weather. Nevertheless, our managers are committed to ensuring that the work is carried out within the promised timeframe, without compromising the quality of the service.
Seasonal maintenance
from
2 950 $
+ txs* / season
*Depending on the size of the lot and existing planting areas.
The peace of mind
From
3 450 $
+ txs* / season
*Depending on the size of the lot and existing planting areas.
Le perfectionniste
From
4 510 $
+ txs* / season
*Depending on the size of the lot and existing planting areas.
Landscape Maintenance on the South Shore
Landscape maintenance services are available in most cities on the South Shore.
🌾 When to treat the lawn for weeds?
To ensure optimal treatment, start treating the lawn as soon as the first weeds appear.
🔸 What to do about a yellowed lawn?
Topdressing is the treatment that works best to ensure a beautiful green lawn.
🍂 How do you maintain a lawn in the fall?
Several lawn treatments should be done in the fall: seeding, scarification, topdressing and amendment for all soils except sandy. Fall lawn mowing should be done at 3 cm once a week.
🌱 How much does a lawn mowing cost?
Our packages are designed to give our clients peace of mind. We only offer complete maintenance services to avoid management and infestation problems. This avoids unpleasant surprises during the year.
However, some companies offer à la carte services or annual packages that include lawn mowing only. In these cases, the price of lawn mowing varies according to the nature and size of your property, as well as the frequency of mowing by the professionals.