Outdoor landscaping with swimming pool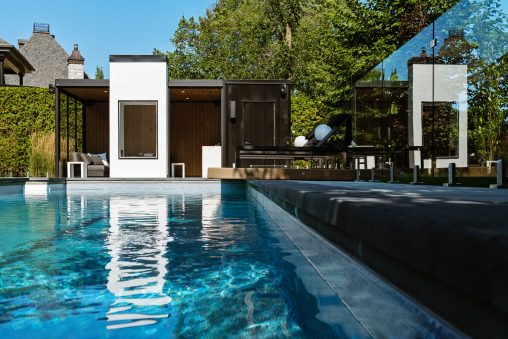 Creation of refreshing spaces
From $ 10,000, our team carries out extraordinary projects that meet your expectations.
See our achievements and see the breadth of our experience.
Diversified and refined, all our projects are executed with rigor and vision.
Your landscaping and your pool are an inseparable duo.
Sure, installing a swimming pool is nice. But a landscaping architect can imagine and design a pleasant, practical and safe environment, without foregoing harmony and style.
Before you start, assess your needs
Think about what you want and how you are going to use the space around the pool.
What is your lifestyle like?
What are your preferences?
Do you have children?
Do you want to showcase the plants?
Do you have a terrace?
Inground, semi-inground or above-ground ?
Although every one of these models serves the same purpose, their specific characteristics will influence our approach and the propositions we'll ultimately prepare for you.
That being said, regardless of your swimming pool selection, we'll always combine style, colours, textures, vegetation and convenience that correspond to your desired situation.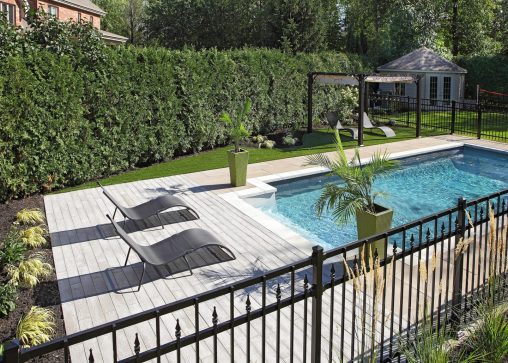 Style
Contemporary, country, formal, oriental or wild, whatever style you define as your own, will influence the landscaping elements we'll consider.  Per your preferences, fencing, choice of materials and plants, water falls, fountains, lighting or any other accessory, come together to create a specific, desired effect.
For example, a structured style will require fewer plant varieties and vegetation that tends to grow in certain shapes, with cleaner lines. On the other end of the spectrum, a wilder, country or rural-inspired landscaping will be varied, colorful and less manicured.
Vegetation
Plants, shrubs or flowers that are placed close to your pool, must tolerate salt and chlorine. Whether you have energetic kids or lively adults, splashing is going to occur at some point, and you'll want your greenery to survive and thrive.
Depending on the style and level of maintenance desired, you can opt for tougher arrangements, or choose plants that require a little more love and attention.
A proper mix of low walls, flower boxes, trees, shrubs and garden can all contribute to a natural,  manicured environment.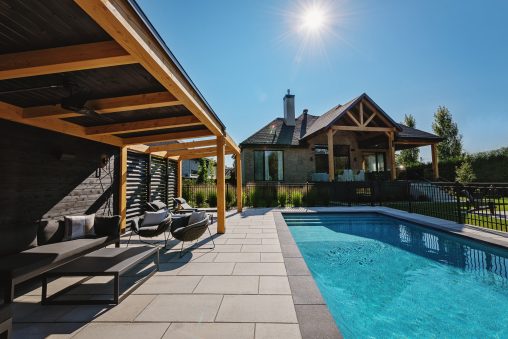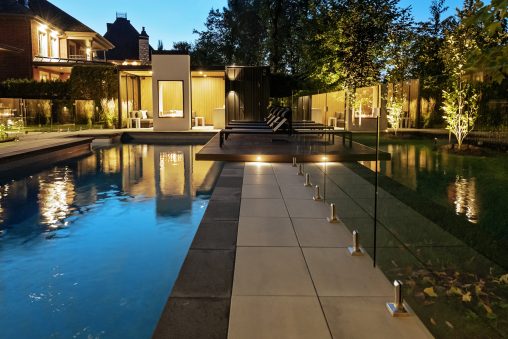 Safety and accessibility
Privacy, safety, space and accessibility must all be taken into account to create a practical backyard design.
If you've chosen an inground pool, surrounding it with durable, non-skid materials will be a must. Then, to respect municipal regulations, pools should be fenced. The great thing about modern-day fences, is that they're now considered part of the design and produced as such. Material choices abound and you can encourage safety, without losing style. Aluminium, glass, wood, and more, help you combine esthetics with efficiency.
Conviviality and privacy
Privacy is often lost when you choose an above-ground pool. However, several landscaping secrets and techniques can help keep the neighbour's watchful eye out of your backyard.
Pergolas, gazebos, patios and decks can all be strategically oriented to create a comfortable happy-hour setting, take advantage of the warm, bright sun and enjoy pleasant outdoor meals with family and friends.
By harmonizing your pool with your landscaping, you're increasing your property's value. Optimized space, comfort and practicality are always desirable.