Our Outdoor Carpentry Service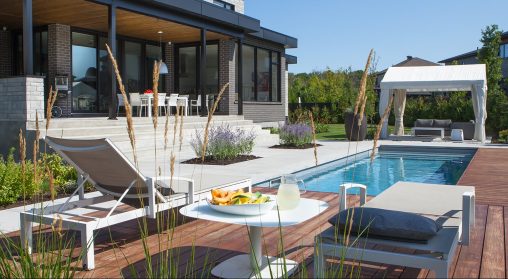 We build green spaces for an excellent outdoor experience
Whether it is landscaping or yard lighting, we integrate the structural elements that add value to your backyard and property. GTL's expertise in this area is backed by 16 years of construction and outdoor carpentry experience.
Outdoor kitchen, Gazebos and bath houses
We work with various types of materials that adapt to your needs and tastes
The perfect outdoor kitchen
The art of outdoor living, or outdooring, has become the rage in recent years.
To make your yard an oasis of relaxation, building an outdoor kitchen is a smart choice, especially if you are a barbeque aficionado.
For example, adding a kitchen counter not only facilitates meal preparation, it provides a spot for friends and family to gather
Building a gazebo to house your outdoor kitchen allows you to experience the joys of outdoor cooking throughout the summer, regardless of the weather.
The landscape architect will be able to guide you in the choice of materials and style. It is essential to be well advised and to make a wise choice, because this kitchen is made to last over time
Some of our outdoor carpentry achievements
Our work stands out for its quality and for each plan completion precision. We are working with our customers to find the perfect finish and improve their quality of life.
Our outdoor carpentry services are provided in the Montreal area and the South Shore (Candiac, Brossard, Saint-Hubert, etc.).
Other pages that could interest you