Landscaping expert in Candiac | G.T.L. Paysagiste
Accredited and certified landscaper
For your residential and commercial landscaping projects in Candiac or the surrounding area, G.T.L. Paysagiste is here to make your ideas a reality. The company stands out for its expertise in landscape design and architecture, thanks to a solid team of landscapers, and for the quality of its green space maintenance services.
We are proud to be considered a benchmark for landscaping in Candiac. Our team of accredited and certified landscapers excels in landscape architecture and design.
We offer a full range of landscaping and maintenance services in Candiac. Each service is carried out with meticulous attention to detail and in-depth knowledge.
Of course we serve Candiac, but our services don't stop there. A wide swath of the South Shore can contact us for landscaping. The region extends as far as Chambly, Brossard, Beloeil, Boucherville, St-Bruno and even the island of Montreal.
Significant projects
Over the years, we've completed a multitude of landscaping projects in and around Candiac. Each is a testament to our commitment to excellence and our ability to transform outdoor spaces into personal paradises.
Among our most notable projects are the Littoral and the Luxe, both of which received multiple awards in the APPQ competition. Each of these projects illustrates our dedication to quality and our ability to create high-end landscapes that meet the unique needs and desires of each of our customers.
Expertise and professionalism
Our landscaping experience is reflected in every project we undertake.
Whether you're looking to transform your garden into a private sanctuary or create an outdoor entertainment space for your guests, our team has the skills and experience to bring your vision to life. Contact us today to discuss your landscaping needs.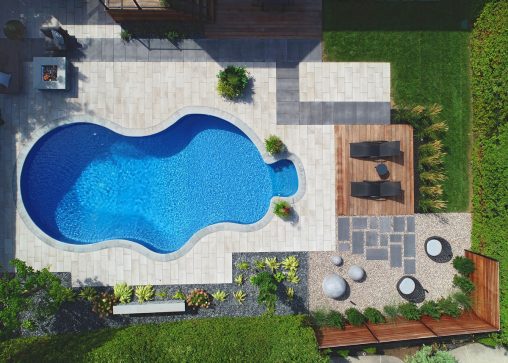 The 6 main stages of landscaping
1. Layout design
Designing a landscaping plan involves analyzing the characteristics of the land, taking into account environmental constraints and defining functional and aesthetic spaces adapted to your needs and desires.
A well-designed landscape plan must take into account sun exposure, soil type, topography and climate to ensure the longevity of plants and installations.
It is also essential to consider practical aspects such as accessibility, maintenance, stormwater management and any local regulations. Finally, a successful landscaping plan must reflect your style and personality, while respecting the harmony between the various garden elements and the architecture of your home.
2. Start of work, site excavation
Site excavation is a technical and essential step in preparing the ground for landscaping work such as building low walls, creating water basins, laying terraces or installing drainage systems.
This operation involves removing the top layer of earth, digging and moving volumes of soil to shape the terrain to the needs of the project.
Excavation must be carried out with care and precision to avoid damaging existing infrastructure, tree roots or underground networks. The use of professionals and appropriate equipment, such as backhoes or mini-excavators, is often necessary to guarantee safe, high-quality work.
3. Pool and/or spa installation
Pool and spa installation is a popular landscaping service. Installation requires careful planning and compliance with current safety standards.
It's essential to choose the right location, taking into account sun exposure in the yard, proximity to trees, underground networks and accessibility constraints.
Harmonious integration of the pool or spa into your landscaping is also essential. Calling on pool and spa professionals is highly recommended to ensure the quality and durability of your installations. We'll also ensure compliance with local and national regulations.
4. Paving and cobblestones
Laying pavers is the first step in creating aesthetically pleasing, long-lasting walkways, terraces, borders or parking areas.
Whether in concrete, natural stone or terracotta, pavers offer a wide variety of shapes, colors and textures. They allow you to personalize your outdoor space and adapt the style to the architecture of your home.
Laying pavers requires meticulous preparation of the ground, including levelling, laying a bed and an adequate drainage system to avoid problems of settling or water stagnation.
Installation must be carried out with precision, respecting installation rules and joints between pavers to guarantee the stability and longevity of the structure.
5. Layout of flowerbeds and plants
Laying out flowerbeds and planting plants are steps that bring life, color and texture to your garden.
It's crucial to select plants suited to the climate, soil and light exposure of your outdoor space. We always remember to vary species, mixing trees, shrubs, flowers and grasses to create a harmonious and attractive landscape.
When planting, we respect the distances and specific needs of each plant to encourage their growth and blossoming.
6. Decoration and finishing
Decorating and finishing a landscaping project is the final touch that transforms an outdoor space into a welcoming, personalized place.
Decorative elements, such as sculptures, fountains, planters, lighting and outdoor furniture, help create a unique ambience and reflect your style.
Finishes such as edging, mulching and flooring ensure cleanliness and durability.
Frequently asked questions
What is the maximum fence height for a yard in Candiac?
According to the Candiac municipal by-law, the maximum height allowed for fences varies according to their location on the property. For the side setback and backyard, fences can reach a maximum height of 1.83 meters, or about 6 feet. However, if the fence is installed at the front margin of the property, the maximum height is limited to 1.22 meters, or about 4 feet. It is essential for all residents to respect these regulations in order to maintain visual harmony in the community, as well as to guarantee everyone's safety and privacy.
Can I have a fireplace in my yard in Candiac?
Of course, you can have a fireplace in your yard in Candiac, but it's important to respect certain regulations to ensure everyone's safety and well-being. Before installing your fireplace, we strongly recommend that you consult the Ville de Candiac website to familiarize yourself with these specific rules and regulations. Particularly, propane or natural gas fireplaces are recommended. These types of hearths are not only environmentally friendly, they also offer a more controlled and safer campfire experience. Remember, respecting municipal rules helps make Candiac a safe and pleasant community for all.
Can I have a clothesline in my yard in Candiac?
Yes, you have every right to install a clothesline in your yard in Candiac. It's an energy-efficient, traditional drying method that requires no electricity, making it an excellent choice for environmentally conscious residents. However, while there are no regulations prohibiting the use of clotheslines in Candiac, it's always a good idea to respect the residential character of the neighborhood and ensure that your clothesline setup doesn't cause any inconvenience to your neighbors.
How do I get my landscaping permits in Candiac?
To obtain your landscaping permits in Candiac, you can apply directly via the City of Candiac's website. This digital service makes it much easier to submit your application and speeds up the permit issuance process.
The majority of our customers entrust us with the management of their permits with the city. By granting us power of attorney, we can take care of the often complex paperwork for you. This way, you can concentrate on what's really important: the realization of your landscaping projects. The combination of these online services and our professional assistance ensures efficient, stress-free management of your permit applications.